You don't have to spend a fortune to throw a great party according to event planners Chad Biggs and Jessica Tilton of Chad Biggs Event Planning and Design. "The key is personality," says Biggs. "I have a friend who is a big reader. Whenever I go to his house, he uses old books as elevation to bring up his white platters. It's appealing to see seven books here, two big encyclopedias there, all giving you depth." Business partner Tilton agrees, adding that she walks around the house to find items that can be repurposed for entertaining. "It's about putting thought and creativity into the details of the event," she says. The duo offers these tips in making your next event a resounding success.
Drinks anyone!
Create a signature cocktail that guests receive as soon as they walk in the door. "It makes guests feel special," says Tilton. Glasses are a great way to showcase your personality—from vintage champagne goblets to mason jars. For larger-scale parties, consider renting stemware from CE Rental (cerental.com); it's more affordable than you think. Tilton also offers this trick: purchase disposable stemless wine glasses and dip them in gold paint. They look fantastic and don't have to be washed at the end of the night.
You've got the beat.
Nothing dampens a party more than awkward silence, so make sure you have music playing the moment guests arrive. It helps makes early guests feel comfortable as more people arrive while also setting the tone for the party. You may consider investing in a Bluetooth speaker that can easily move throughout the house: Biggs is a fan of Sonos wireless speakers. Though the style of party you're throwing often dictates the tunes you choose, Biggs recommends the Postmodern Jukebox station on Pandora as a great background option. "Music changes the mood completely," adds Tilton.
Be whimsical with your presentation.
When serving food, elevating platters can make a big difference visually. Have fun with what you use: small wooden crates, books, board games. Also, collect cutlery and napkins together. Biggs has a small vintage suitcase that he fills with four mason jars. Each jar is outfitted with forks, knives, spoons and napkins. "It's a great presentation," he says. Stick to one color when it comes to your platters and serving dishes. Tilton prefers white: "I have a ton of white platters, so if I need extras I don't have to worry about mixing and matching. You can add detail with greenery or candles."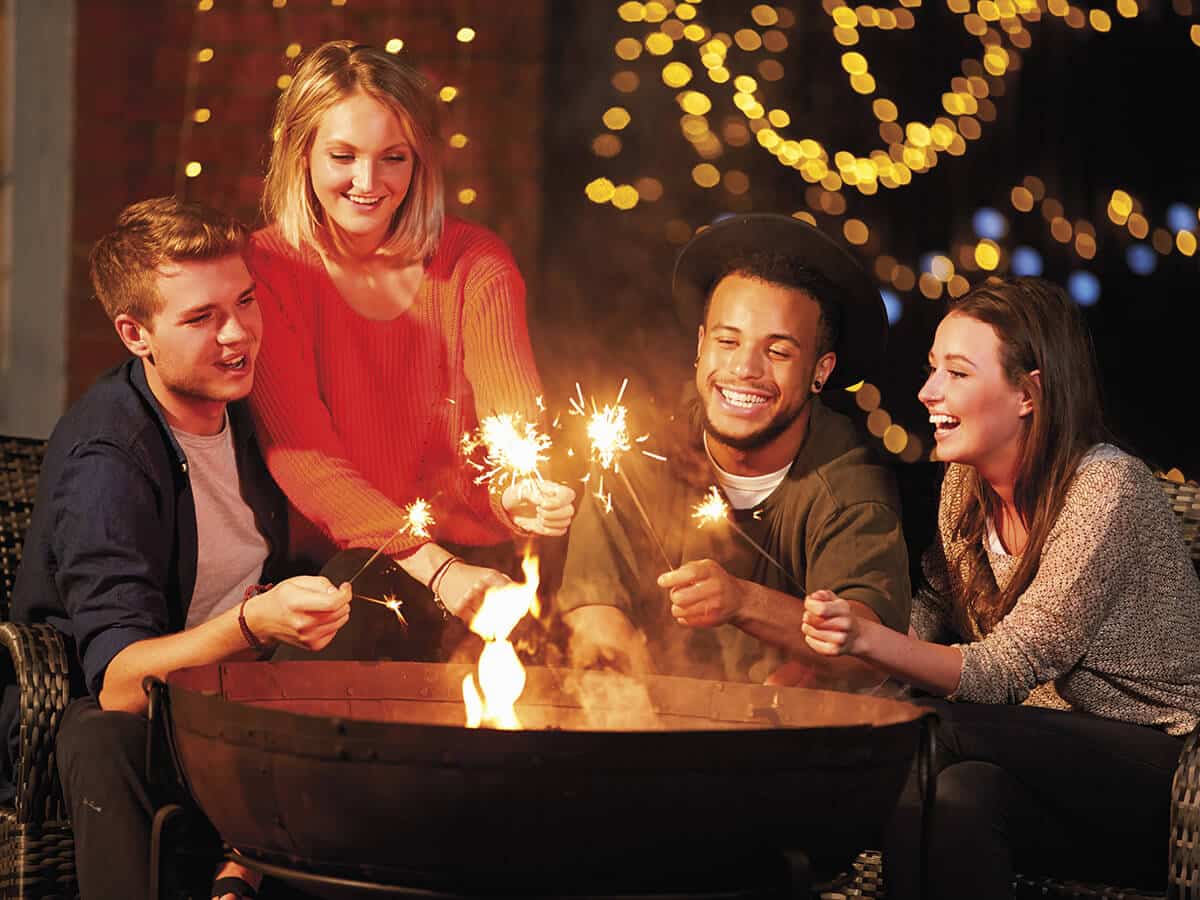 Lighting counts.
Make sure you've turned all of your lights on, including lamps and overheads. If you have dimmable options, turn the lights down slightly. Candles or lanterns are a great way to enhance the mood and add visual warmth to the space. "There's a reason why water and fire look so elegant" says Biggs. "Anytime you include flames it adds life to the party." Also, consider investing in an inexpensive firepit: you can pick one up at Target, he says. It creates a cozy setting outdoors—and don't forget to bring out a basket of s'more fixings.
Set the bar.
Coffee can create a conundrum at parties—who wants to put their Mr. Coffee on display? Instead, invest in a nice coffee carafe and teakettle for entertaining. Create your own coffee or tea bar.  Display an array of different tea bags, offer simple or flavored syrups and don't serve sugar and sugar substitutes in packets. Empty them into quaint bowls with a little spoon. This small detail makes a big difference.