They don't call it the "Darling District" for nothing. Trust us—DC deserves to be your next getaway.
Fun facts: I grew up in Northern Virginia (aka spitting distance from DC). And while our EIC grew up in Raleigh, she took a hiatus to DC 10 years ago—living in Georgetown and cutting her teeth at DC magazine. So we know DC is so much more than the text-book version and decided it was time to return to the cap city to bring back the deets on what's hot right now.
Sure, your perception of DC may not vary much from my middle-schooler POV—the epicenter of our nation's government, filled with colossal monuments, museums, politics and an uber-diverse population. You're not wrong—but there's so much more to it than that. It's also a lively adult playground with waterfront (and rooftop!) views aplenty, countless greenspaces and parks, some of the nation's best chefs and bartenders (and food and cocktail concepts), cultural experiences, and more.
Not to mention the distinct DC neighborhoods—from the cobblestone streets (reminiscent of Charleston) and riverside eats in charming Georgetown to Dupont Circle's super-walkable dining and nightlife vibes, DC is a city worth experiencing (again and again). But with so much to do, it's hard to know where to start—so we did the hard work (ha) for you. Here's your dreamy DC to-do list. And if you're looking for an excuse to book that 45-minute flight (!) or make the quick drive up I95 sooner rather than later, DC Beer Week is Sept. 19–26.
DO
The REACH at the Kennedy Centerfor the Performing Arts
Playing off of DC's playground identity is The REACH, the Kennedy Center's first expansion since its opening in 1971. Strolling through the green spaces (pro tip: pack a picnic) was a sweet escape from the hustle and bustle of the city, while glass-windowed rehearsal spaces allowed us to peep various artists in action. kennedy-center.org
ARTECHOUSE
Art + tech (hence, ARTECHOUSE) collide at this buzzy boundary-pushing cultural playground. Upon entry into Renewal 2121 (on view through Sept. 6), we were immediately transported into an overdeveloped Tokyo 100 years in the future rocked by climate change (sound familiar?)—prompting us to think about our choices… and ideally take action. Next up, Life of a Neuron (Sept. 27–Nov. 28)—a must-do. artechouse.com
The Wharf
City life meets boardwalk thrills at waterfront The Wharf, which boasts a plethora of excellent restaurants, shops, hotels and happenings. Our top recs? Margs at Mi Vida, concerts at The Anthem, an Italian dinner at Officina (more info to the right) and, um, more drinks at Cantina Bambina (overlooking the river!). wharfdc.com
EAT
CUT by Wolfgang PuckWe have just one piece of advice for you: Order the wagyu. As a matter of fact, order all three of the wagyus (but especially the 2-oz. Japanese wagyu New York sirloin—arguably the best melt-in-your-mouth bite of meat we've ever taken)… because when else are you going to be able to eat steak at a Wolfgang Puck restaurant? wolfgangpuck.com
Officina
Our last meal in DC consisted of pasta and pizza (balanced with fresh salads and possibly one last glass of prosecco—because when in DC…) at Officina's Georgetown location, the upscale casual and cozy sister location to the bustling three-story restaurant, market and rooftop bar at The Wharf. We can attest that Nicholas Stefanelli's tried-and-true Italian dishes are the best way to fuel up for a flight. officinadc.com
Clyde's
After walking several miles around Georgetown in the hot summer heat, local-fave Clyde's offered the perfect perch for grabbing a quick drink and a snack. It's just the type of neighborhood-friendly watering hole you'd want to stumble upon as a tourist—the affable service, food and drinks beg you to get another round (or two). clydes.com
DRINK
Baked & Wired
It took everything in us not to ruin our lunch with a cupcake, cookie or bar (or literally anything else) from this national treasure (aka hip family-owned coffee shop and bakery in Georgetown)—but we're going to insist that you do. And you can't beat a latte made with handcrafted coffee to jump-start a day spent adventuring the cap city. bakedandwired.com
POV Rooftop at W Washington DC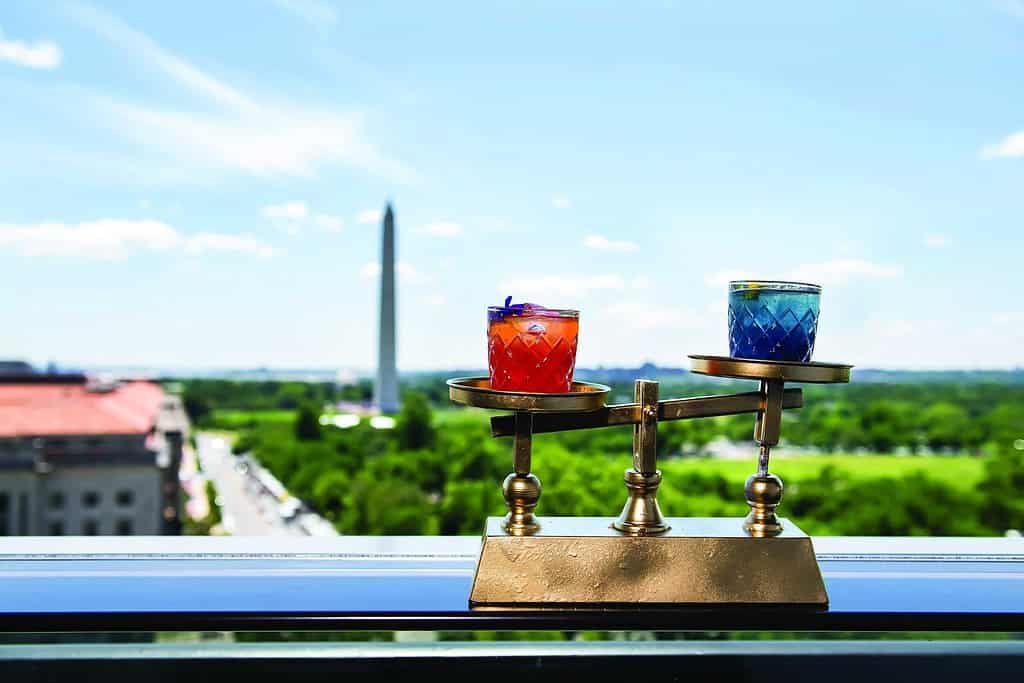 POV: You're sipping a specialty cocktail (with names taking inspiration from political history, famous rumors and presidential quotes, naturally) high above the nation's capital, overlooking the White House—not to mention such splendid sights as the U.S. Treasury Department building, the Washington Monument and more. Clearly, one of the best points of view (and rooftop bars!) DC has to offer. *Swoon.* povrooftop.com
Riverfront Drinks at Washington Harbour
We could've spent the whole day throwing back blended drinks at the Washington Harbour while taking in views of the Potomac River, Key Bridge, Kennedy Center and Roosevelt Island—but alas, there's so much else to see and do! Still, while you're there, go for a round at Nick's Riverside Grill, Sequoia, or Tony and Joe's. thewashingtonharbour.com
STAY
Lyle Washington DC
The plethora of Dupont Circle shops, restaurants and attractions at the hotel's doorstep may tempt—but were a tough match for the opulent comfort of our calming neutral- and art deco-appointed rooms. Luckily, the unparalleled breakfast (also serving lunch, dinner and cocktails) at casually sophisticated Lyle's is easily worth leaving the room for (how is an egg sandwich that good?). lyledc.com
Rosewood Washington DC
Tucked between M and K streets, Rosewood recently added and reno'd several adjacent townhouses—delivering guests the luxuries of a hotel with the privacy of an Airbnb. Our luxe stay in the serene, modern split-level townhouse, complete with posh furnishings, cozy breakfast nook, private patio and futuristic toilet (seriously, it knows when you are entering the room and self-cleans)—all in the oasis that is Georgetown (just steps from riverfront bevs or endless primo retail and restos)—made us never want to leave. rosewoodhotels.com
Riggs Washington DC
Set in the former home of the Riggs National Bank in Penn Quarter, the ever-opulent Riggs is a must-stay. (And spring for one of the four First Lady suites! Our pick: the pretty-in-pink Ida McKinley version.) Besides being the ideal atmosphere for popping bottles, you'd be remiss not to toast your trip in the super-hip subterranean cocktail bar (Silver Lyan) before a fab dinner at Café Riggs. riggsdc.com