By Melissa Howsam and Lauren Kruchten
Forks up, Raleigh. Your 25 best dishes are here. We vetted top industry foodies and ate our way through town (tough job but someone has to do it) to deliver your top 25. The question we asked ourselves? What's the Raleigh dish you'd tell someone they just hadto have? We thought (and asked) less about celebratory meals and more about what makes us want to put on pants and even drive across town—excluding handhelds (think tacos, burgers, pizza… see our bonus coverage at the end of the feature for top fast-casual eats).
What we found? Some upscale dishes obviously remain in the ranks. But more and more elevated affordable and accessible plates have joined the ranks as well. That, and people love shareables (hey, sharing is caring!). So, dive in. And, caution: Read hungry at your own risk.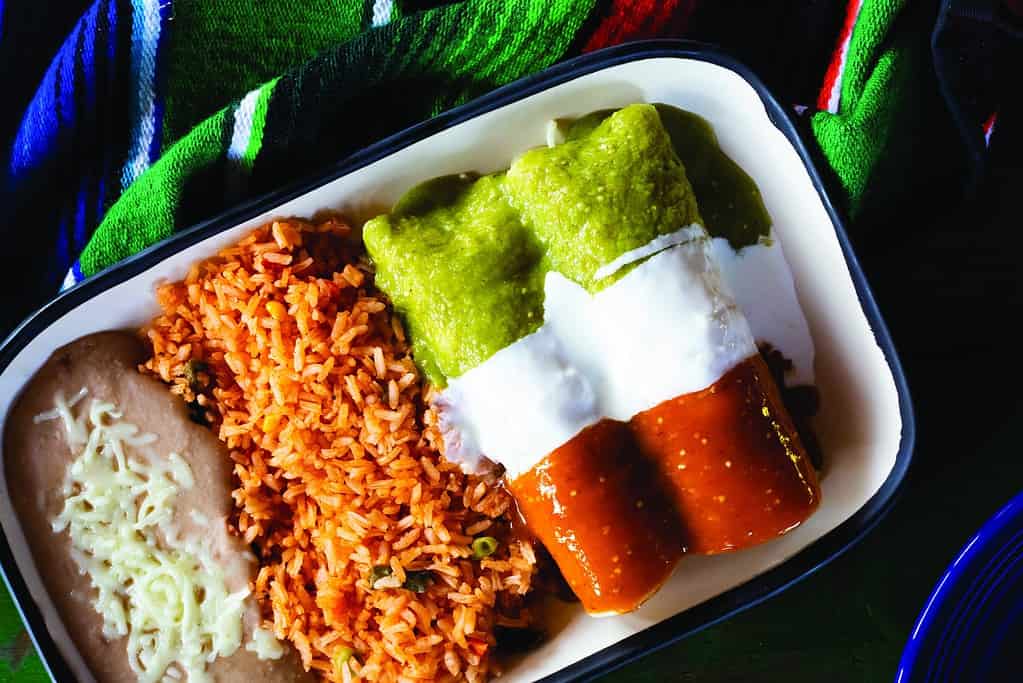 Enchiladas de Puebla
Dos Taquitos
Northwest Raleigh
dostaquitosraleigh.com
Cheers to 30 years! This Raleigh staple just celebrated three decades of fab food (and spirits!). While you can't go wrong at Dos Taquitos, its iteration of the "Mexican flag" enchiladas smacks with tricolored green, white and red corn tortillas stuffed with chicken, black beans and steak, and topped with tomatillo, Mexican cream and chipotle sauce, respectively. If you're feeling spicy, pair it with the Picante marg—our fave.
Chicken & Waffles
Hummingbird
Five Points
hummingbirdraleigh.com
Hummingbird no doubt faces a host of tough chicken & waffle competition in Raleigh (lucky us!)—but it's chef/owner Coleen Speaks' sweet and savory combo of a pillowy waffle with maple syrup and hot honey herb butter topped with a tender chicken breast buttermilk brined for two days (with lemon and garlic) that'll have you saying Beasley's who?
Trout Amandine
Jolie
Historic Oakwood Person Street District
restaurantjolie.com
A French culinary term that means "with almonds," this technique spruces up a cut of trout with almonds (obv), along with brown butter, Carolina rice and fennel for a dish that's pleasing to both the eyes and mouth.
Macaroni au Gratin
Poole's Diner
Fayetteville Street District
ac-restaurants.com
We can't write a Raleigh's 25 best dishes list without naming AC's iconic macaroni au gratin (a decadent mixture of noodles, heavy cream, three different cheeses and salt)—easily one of the most sought-after (and raved about) meals in town.
Cauliflower 65
Garland
Fayetteville Street District
garlandraleigh.com
Decorated chef Cheetie Kumar's Indian roots shine in this uber-popular cauliflower dish with a kick (chiles, curry leaves, lime, cilantro and a turmeric-yogurt sauce)… delivering your taste buds way more than 65 mouthwatering reasons why it landed a spot on Raleigh's top 25 dishes.
Quiche Lorraine
Coquette
Midtown
coquetteraleigh.com
You haven't had quiche until you've had Coquette's Quiche Lorraine (ham, bacon, caramelized onion, Gruyere). There's a reason this sky-high, fluffy quiche is so coveted—both a fan-fave and a perennial mainstay on Raleigh's top dish lists. If you're feeling frisky, trade up the staple Quiche Lorraine for the Quiche Du Jour.
Pasta ai Frutti di Mare
Mulino Italian Kitchen & Bar
Capitol District
mulinoraleigh.com
Ordering at Mulino is always a challenge, given how amazing everything on the menu is. Our go-to, however, is the seafood pasta (choice of squid ink or linguini) loaded with clams, shrimp, scallops and seafood bisque—but you most definitely should make your dinner date order the gnocchi to sneak a few bites of.
Rosewater Mussels
Rosewater
Midtown
rosewaterraleigh.com
These scrumptious rosé-steamed mussels in a bath of shallot and herbs (with baguette to boot) will have you fighting the urge to exclaim "ooh, la, la" while booking your next rez on the spot.
Sweet Potato Enchilada
Cantina 18
Village District
18restaurantgroup.com
We know—Cantina 18 is a taco titan. But we dare you not to fall for these farm-fresh vegetarian seasonal sweet potato enchiladas with roasted sweet potatoes, corn, bell peppers, cheddar cheese and guajillo sauce, served up with a side of crack (ahem, red) rice. You can thank us later.
Screaming O Roll
Sono
Fayetteville Street District
sonoraleigh.com
I mean, it's called the Screaming O—need we say more? This trademark Sono roll of spicy tuna, tempura shrimp, seared tuna, tobiko, "O" sauce, sweet soy and green onion will leave you, well, satisfied and coming back for more.
Burrata Salad
The Rockford
Glenwood South
therockford1994.com
Everyone knows salads are better with cheese, so it's no wonder that The Rockford's greens are so popular, what with the gooey glob of burrata it stars—plus prosciutto and blueberry-serrano jam.
Filet Oscar-Style
Angus Barn
Northwest Raleigh
angusbarn.com
With Iron Chefwinner Walter J. Royal at the helm and "Angus" in the name, you can't go wrong with any of the in-house aged steaks the iconic Barn serves up. But that bacon-wrapped pan-seared buttery filet ordered Oscar-style (crabmeat, asparagus, hollandaise sauce) is next-level.
Roasted Oysters
St. Roch Fine Oysters + Bar
Moore Square
strochraleigh.com
Chef/owner Sunny Gerhart zhuzhes up the week's oyster catch by roasting them and serving them "Pimento'd," "BBQ'd" and "Andouille'd"—a flavor-packed trio that'll have you coming back for more again and again… and again.
Peking Duck
Brewery Bhavana
Moore Square
brewerybhavana.com
Bring your crew along to devour this whole, barbecued, free-range duck (which serves three to four people), plated with steamed bao buns (another Bhavana speciality we can't get enough of), cucumber, scallions and hoisin-honey sauce.
Chicken Potpie
Beasley's Chicken + Honey
Moore Square
ac-restaurants.com
Break through the flaky cornmeal pastry crust in Ashley Christensen's chicken potpie and you'll be met with a steamy bowl of pulled chicken and veggies in a slurpable milk gravy—aka comfort by the spoonful.
BBQ Rotisserie Chicken
Winston's Grille
North Raleigh
winstonsgrille.com
This isn't your basic grocery store rotisserie chicken. Winston's cooks whole chickens in its dedicated rotisserie oven every day, then bastes them with homemade BBQ sauce to serve with a side of Southern comfort via mac and cheese and collards.
Yellowtail Crudo
Crawford and Son
Historic Oakwood Person Street District
crawfordandsonrestaurant.com
Chef/owner Scott Crawford is a five-time James Beard Award best chef Southeast semifinalist for a reason. Foodies and fans of food alike are gonna want to reserve a seat at his DTR spot. While the entire menu is to-die-for, the current iteration of Crawford's yellowtail crudo in all its watermelon aguachile, cilantro and sorrel ice glory is legendary.
Roasted Bone Marrow
Stanbury
Capitol District
stanburyraleigh.com
The best thing about ordering Stanbury's bone marrow, besides, of course, spooning the soft and melty marrow onto a piece of Boulted Bread toast? Using the bone as a luge afterward to shoot back some bourbon or sherry.
Catch of the Day
Mandolin
Five Points
mandolinraleigh.com
OK so it's not just one catch, but we're willing to go on the line and say you can't go wrong no matter which of the dozen-ish different NC species Mandolin serves up throughout the year. With a seasonally changing set, it's always the perfect catch.
Dial M for Meatloaf
Hayes Barton Cafe & Desserty
Five Points
hayesbartoncafeanddessertery.com
This ain't your mama's meatloaf. Trust us—you just didn't know it could be this good. The monstrous(ly delicious) droolworthy serving is in a word: incredible—the mighty meaty serving only made more succulent with mashies, gravy and veggies. Pro tip: Save room for cake—or bring it home with you.
Oysters Rockefeller
42nd Street Oyster Bar
Smoky Hollow District
42ndstoysterbar.com
Aw, shucks—you just can't have a top 25 dish list in Raleigh without any number of delish dishes from this iconic OG oyster bar (serving us since 1931!). Our rec: Go baked with the Rockefeller variety (spinach, bacon, Parmesan cream)… but you should def splurge on a raw half-shell selection while you're at it. When in Rome…
Shrimp and Grits
NOFO @ the Pig
Five Points
nofo.com
We've told you before—and we'll tell you again. If it's shrimp and grits you're after, NOFO is your answer. The local-fave flavorful combo of sauteed shrimp, smoked bacon, sliced mushrooms, garlic and scallions over pepper jack grits—served up with doughy biscuits—oozes Southern comfort in a can't-miss dish.
Everything Brussels
Wye Hill Kitchen & Brewing
Warehouse District
wyehill.com
Everything But the Bagel seasoning is everywhere, including sprinkled atop Wye Hill's fried Brussels sprouts. The trendy salty seasoning rounds out the dish, while a creamy fromage blanc will make you want to lick the plate clean.
Tuscan Salmon
Vidrio
Glenwood South
vidrioraleigh.com
When given the chance to eat a meal prepared by the 2021 NCRLA chef of the year (Vidrio executive chef Saif Rahman), you grab it. Take a sensory trip to Tuscany with this melt-in-your mouth salmon dish swimming in a sundried tomato cream (don't be shy; ask for a spoon—no judgment) and topped with spinach and citrus salad.
Pierogies
J. Betski's
Seaboard Station
jbetskis.com
Chef/owner John Korzekwinski's German and Polish heritage shone through in his pierogies (aka pockets of perfection). From the cheese and potato filled staple appetizer to the rotating variety on offer, these dreamy dumplings are an always-made-from-scratch thing of the past—for now. The owner plans to open a new spot at Highpark Village with a different take on his cuisine via modernized small plates in a vibrant location, says Korzekwinski. Fingers crossed for pierogies on the menu. Stay tuned to J. Betski's website.
---
Fast-Casual Faves
We could do a whole issue on handheld foods (burgers and tacos and pizzas—oh, my!) we'd stand in line for… but we narrowed it down to these fast-casual faves around town. If these are wrong, we don't want to be right…
Hot Dog
Cardinal
Smoky Hollow District
facebook.com/thecardinalbar
Barbacoa Tacos
Gym Tacos
Midtown East
@gymtacos
Bulgogi Box
Bul Box
Midtown & Moore Square
bul-box.com
Asada Tacos
El Rey Del Taco
Midtown East
elreydeltaconc.co
Pork Bun
Zanyu Asian Noodles
Lafayette Village
zanyunoodles.com
Crab Roll
Locals Oyster Bar
Moore Square
localsoysterbar.com
Duck Tacos
SmokeStacks Cafe
Oakwood
coffeeraleigh.com
Classic Lobster Roll
Mason's Famous Lobster Rolls
Midtown
masonslobster.com
Any Pizza
Oakwood Pizza Box
Oakwood
oakwoodpizzabox.com
BB's Crispy Chicken Sandwich
BB's Crispy Chicken
Midtown East
bbscrispychicken.com