Getting your spirits from out of state? You're likely breaking the law.
Fancy spirits you can't find in NC delivered straight to your door? Whether it's that ever-elusive bottle of Blanton's or that Spicy Ranch Water you had on Broadway in Nashville—or even if you just wanted to send your out-of-state bestie a bottle of our local Conniption gin… turns out, you'd be breaking the law.
Perhaps you've seen the likes of websites such as Drizly, Frootbat and the like promising to have "the drinks come to you." … Sounds simple enough? Well, things that sound too good to be true usually are.
According to the hundred-plus-page North Carolina ABC Laws spelled out in Chapter 18B of the NC General Statutes, shipping or receiving any malt beverages or liquor to residents without a valid wholesaler's permit is illegal. (Vino lovers—don't sweat that wine subscription though. Wine can legally be shipped from out of state to your in-state address in specified amounts.)
And before you go rolling your eyes and turning the page because you just drive a state over for those bottles and brews—well, our liquor mule friend, that makes you a criminal too above a certain quantity. Who knew?
We're as shocked as you—which is why we thought it best to break it all down. The more you know…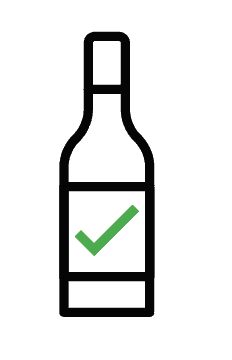 WHAT CAN I DO?
It is legal to have wine shipped or delivered—both in state and out of state—in limited quantities.
A winery may ship no more than 2 cases per month to any person in NC. A case of wine constitutes 12 standard 750ml bottles—thus 24 standard bottles per month.
It is legal to transport liquor or malt beverages* over state lines by car, boat or plane in limited quantities. But a person may bring no more than 4 liters of spirituous liquor (a standard size bottle is 750ml) and 80 liters of malt beverages (aka 9 cases).
It is illegal to have any person or business out of state mail malt beverages or liquor to you in NC for any reason.
It is illegal to mail/ship any beer or liquor to anyone outside of NC for any reason.
---
BUT WHAT ABOUT THOSE WEBSITES…
Self-billed as "any bottle, anywhere," Massachusetts-based Frootbat is an online purveyor for "the world's finest whiskey, wine and liquor, all in one place." Likewise, Liquor Bar Delivery out of California delivers "carefully crafted and exceptional liquors." And the web is rampant with another dozen-plus sites just like them that will drop-ship any bottle you crave tomorrow. So what happens when you live in NC where it is both illegal to have that liquor shipped to you and illegal for you to receive it? Well, turns out, best we can tell, nothing.
We put on our investigative caps and talked to Raleigh residents who are using these sites to see what red tape or rejection they've encountered, if any. During the month of February, two bottles of ever-elusive Blanton's and Buffalo Trace whiskeys were purchased via two separate orders from Frootbat. Upon remit, the customer was sent immediate receipt and tracking details with a simple note that someone 21 years of age or older needed to be home to sign for the package. In essence, it was as easy as Amazon Prime—signed, sealed, delivered. The order was easy; the shipment was fast; arriving from
F-Bat Inc. Irokos.
Over on Liquor Bar Delivery, the same experience unfolded upon ordering a $60 bottle of Rabbit Hole Rye, a bottle impossible to find here (and it's worth noting it was marked at the going price in every other state—compared to exorbitant prices on the black market). With the seemingly standard hefty $25 shipping fee, the bottle was delivered as promised in the one- to five-day timeframe.
So we wondered, are these sites an anomaly? Turns out, not so much. Distillers are shipping too. Relatively new Smoke Wagon whiskey is not yet available for purchase in NC. But while bellied up to the Dram & Draught bar recently, we were told by a bargoer sipping on the latest whiskey sensation—who was oblivious to our efforts on this story—that he liked the whiskey so much that he went to their website and ordered it to his residence with no problem.
Interestingly, Las Vegas-located Smoke Wagon seems to think they are doing their due diligence, as upon "add to cart," you see a message stating "orders cannot be fulfilled" in the following states: "Alabama, Arkansas, Michigan, Mississippi, Oklahoma, Oregon, South Dakota, Texas, Utah and Vermont." Thus, deeming NC one of the states the site is "legally" shipping to. So what gives?
Well, not all websites will mail you spirits all willy-nilly. Popular website Drizly, which promises to "let the drinks come to you," asks you to select your location, and once you select Raleigh, liquor is off the table. Malt beverages can be purchased, but are brought from a proximal location and delivered to you within 60 minutes (um, score). So, given the product is being delivered within the state, this is legit.
But… Drizly does give you the option to send liquor as a gift. And since Drizly is based in California, you are arguably buying that liquor outside of NC and shipping it to a destination outside of NC (say from California to that bestie in New York).
WHAT WILL HAPPEN TO ME?
If you violate these laws, you are guilty of a Class 1 misdemeanor. What will happen to you? Well, we're not sure.
So we asked the NC Alcohol Law Enforcement (ALE) how this is happening and how it's being enforced—and if it's not, why the arguably outdated law in hypertech times remains on the books. As of press time, we haven't gotten an answer, but we'll let you know when we hear back. In the meantime, "drink responsibly." abc.nc.gov
Want more? Tune into our podcast, Office Talk w/ Raleigh Magazine.