Seafood so fresh, you'd think you're at the beach. Down-home dishes that'd make any Southern granny proud. Vegetarian delights and international influences…we've got it all in our comprehensive list of Raleigh's 25 Best Dishes (plus 10 standout starters). For our annual Best Restaurants issue, let us assure you, the competition was fierce; a sheer abundance of local culinary talent, not to mention restaurants whose menus are subject to change daily, made it especially hard for us to choose from among our many, many, many standard menu faves. It was a tough job but you know we had to do it. Now it's your turn—try them all this fall.
Farmer's Veggie and Rice Bowl 
Capital Club 16
16 W Martin Street
capitalclub16.com
An exceptional vegetarian dish at an otherwise meat-focused eatery, Capital Club 16's flavorful Farmer's Bowl is laden with seasonal roasted vegetables, basmati rice and a basted egg.
Raw Oysters 
The Cortez Seafood + Cocktail
413 Glenwood Avenue
cortezraleigh.com
James Beard Award semifinalist Oscar Diaz serves some mean raw oysters sourced from Locals Seafood and served with cocktail sauce and rosé mignonette.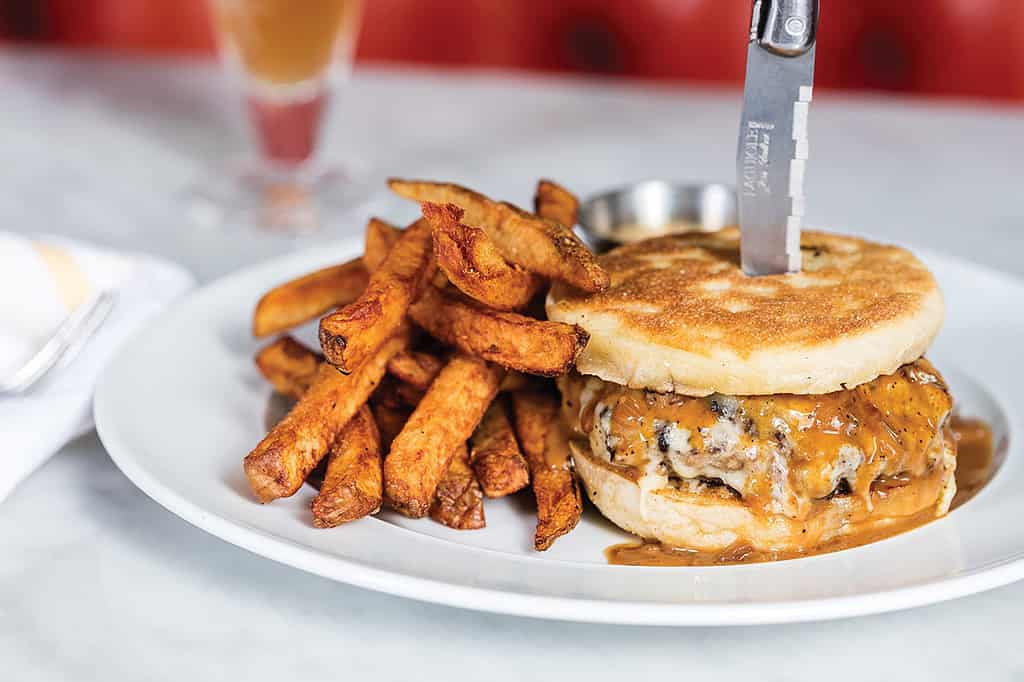 Royale Burger 
Royale
200 E Martin Street
royaleraleigh.com
A classic burger with a sophisticated French twist, the ever popular Royale Burger is embellished with melty gruyere cheese and au poivre aioli in a toasted Michael's English Muffin.
Quiche
Coquette Brasserie
4351 The Circle At North Hills Street
coquetteraleigh.com
Whether you choose the traditional quiche lorraine, cheesy spinach and chevre or the always tempting quiche du jour, Coquette's sky high egg dish does not disappoint.
Calentado
Centro
106 S Wilmington Street
centroraleigh.com
Sweet plantains, a fried egg and tangy guac top a hearty plate of rice and beans. Calentado is only available on Centro's Saturday brunch menu, making it extra special.
Macaroni Au Gratin 
Poole's Diner
426 S McDowell Street 
ac-restaurants.com/pooles
The Mac 'n Cheese over at Poole's Diner is iconic. Its rich, melted cheese and crispy caramelized crust is a hit among out-of-towners and dedicated regulars alike.
Pork Schnitzel
J. Betski's
10 W Franklin Street, Suite 120
jbetskis.com
Crispy and fried to golden perfection, the pork schnitzel at J Betski's could be served at a Viennese Gasthaus. Austrian potato and dill-cucumber salad round out the dish.
Whole Fish
Hummingbird
1053 E Whitaker Mill Road, Suite 111
hummingbirdraleigh.com
It takes skill to get the flesh from the bones of this perfectly flaky fish served with grilled lemon and seasonal vegetables. You'll be glad you made the effort.
Sweet Soy Chicken 
Brewery Bhavana
218 S Blount Street
brewerybhavana.com
Decadent crispy chunks of chicken are served tableside with a mouthwatering caramelized ginger soy sauce—stir the two together for a tasty punch of flavors.
Chicken Parm Ramen 
Papa Shogun
111 Seaboard Avenue, Suite 118
papashogun.com
Chef Tom Cuomo shook up the Raleigh food world when he released his Chicken Parm Ramen, a surprising combination of tomato tori paitan, arugula, chicken katsu and mozzarella.
Adobo Tomahawk Pork Chop 
so-ca
2130 Clark Avenue
socaraleigh.com
This Tomahawk (bone-in) pork chop is tender and packed with flavor. Served with corn and apple succotash, zucchini, butter beans and tomato vinaigrette, it's the queso fresco that adds the perfect finishing touch.
Vegetable Curry 
Garland
14 W Martin Street
garlandraleigh.com
Garland's Vegetable Curry, a superb balance of flavorful spices, cream, fresh herbs and cheese, perfectly showcases chef Cheetie Kumar's Indian roots.
Chicken & Waffles
Mandolin
2519 Fairview Road
mandolinraleigh.com
A decadent take on the traditional duo with juicy fried chicken breasts, buckwheat waffles, braised greens, sautéed mushrooms and an innovative bacon-mushroom emulsion.
Chicken Confit
Crawford and Son
618 N Person Street
crawfordandsonrestaurant.com
Chef Scott Crawford's take on traditional Southern fried chicken is made sophisticated—and delicious—with a flavorful herb crust, velvety creamed corn and charred pepper au jus.
Green Papaya Salad 
Bida Manda
222 South Blount Street
bidamanda.com
A colorful dish of shredded green papaya, tomatoes, nuts and spicy tamarind cradled in red cabbage and topped with your choice of meat, vegetables or fish.
"Two Chickens in Every Pot" Pie 
Hayes Barton Cafe & Dessertery
2000 Fairview Road
hayesbartoncafeanddessertery.com
This show-stopping dish features a thick crust, heaps of creamy mashed potatoes, peas, chicken and an addictive pot pie filling, complete with star-shaped crust cutouts.
Charred Octopus
Vidrio
500 Glenwood Avenue, Suite 100
vidrioraleigh.com
This tantalizing dish is made for bold foodies. A base of corona beans and arugula add color and texture to perfectly charred octopus tentacles, finished with a tangy chorizo vinaigrette.
Chicken Fried Chicken
Driftwood Southern Kitchen
8460 Honeycutt Road, Suite 112
driftwoodraleigh.com
Perhaps not the healthiest option, but definitely worth it! Driftwood's Chicken Fried Chicken is made utterly delectable with creamy mashed potatoes and savory sausage gravy.
Boeuf Braisé Bourguignon 
Saint Jacques
6112 Falls of Neuse Road
saintjacquesfrenchcuisine.com
This delicious French delicacy features tender, melt-in-your-mouth beef short ribs served with flavorful bacon mushrooms, creamy mashed potatoes and local vegetables.
Nigiri Omakase
SONO
319 Fayetteville Street, Suite 101
sonoraleigh.com
If you're dining at Sono, it's wise to entrust yourself to the chef. Keep it deliciously simple with thin slices of the freshest fish served over pressed rice.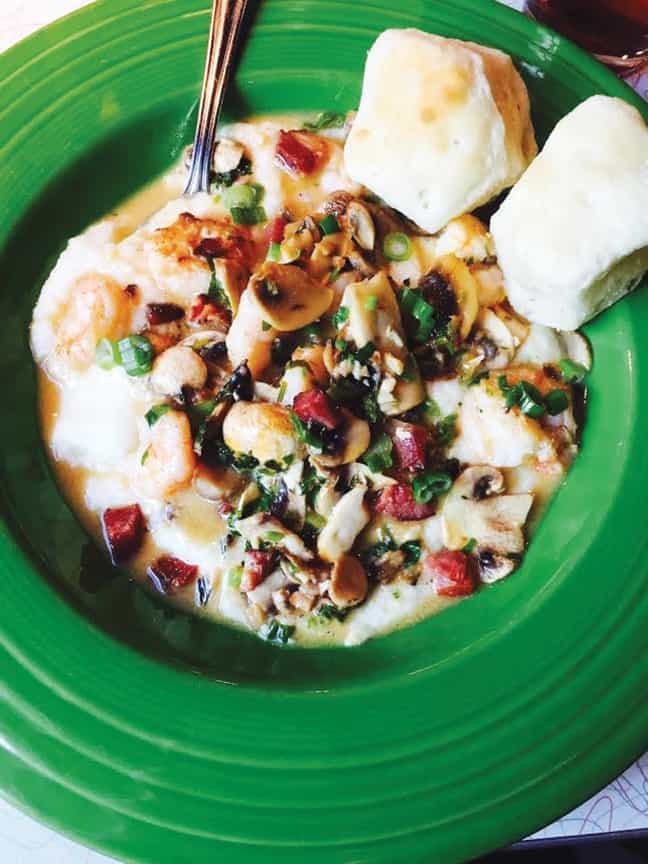 Shrimp and Grits 
NOFO
2014 Fairview Road
nofo.com
For comforting shrimp and grits that oozes Southern charm, look no further than NOFO; it's a flavorful combo of bacon, mushrooms, garlic butter, green onions and pepperjack grits.
Mediterranean Grilled Salmon Salad 
Taverna Agora
326 Hillsborough Street
tavernaagora.com
Transport your tastebuds to Greece with this mix of tomatoes, feta, Kalamata olives, eggplant, red onions, roasted peppers and a flaky salmon filet.
Chateaubriand
Angus Barn
9401 Glenwood Avenue
angusbarn.com
A large, thick tenderloin sliced into brilliantly juicy pieces, Angus Barn's Chateaubriand is a dish worth celebrating. Served with seasonal vegetables and a selection of chef's sauces.
Ribeye
Stanbury
938 N Blount Street
stanburyraleigh.com
A juicy cut of beef, some say it's the best ribeye in town. Served with bruschetta, Sophia cheese, salsa verde, tomatoes, basil shallots, sherry vinaigrette, it's definitely among the most unique.
Mexican Flag
Gonza Tacos y Tequila
7713 Lead Mine Road, Suite 39; 
2100 Hillsborough Street
gonzatacosytequila.com
This festive dish consists of a trio of chicken, steak and pinto bean enchiladas, individually topped with green tomatillo salsa, chile de arbol sauce and Mexican cream.
---
10 Best Starters
These tasty small plates of hot cheese, crispy veggies and yes, even more seafood, had us hankering for more. 
Fried Brussels
Whiskey Kitchen
201 W Martin Street
whiskey.kitchen
Flambéed Saganaki 
Taverna Agora
326 Hillsborough Street
tavernaagora.com
Blue Crab Hushpuppies 
Plates Neighborhood Kitchen
301 Glenwood Avenue, Suite 100
plateskitchen.com
Seafood Dumplings 
Brewery Bhavana
218 S Blount Street
brewerybhavana.com
Cast Iron Goat Cheese 
Tazza Kitchen
432 Woodburn Road
tazzakitchen.com
Deviled Eggs 
Oak
417 W Hargett Street
oakraleigh.com
Cauliflower 65
Garland
14 W Martin Street
garlandraleigh.com
Carolina Crab Dip
Winston's Grille
6401 Falls of Neuse Road
winstonsgrille.com
Heat Seeker Shrimp
Five Star
511 W Hargett Street
fivestarraleigh.com
Roasted Beet Salad 
J. Betski's
10 W Franklin Street, Suite 120
jbetskis.com